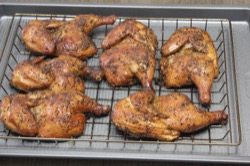 Rosemary Citrus Cornish Hens
Ingredients
4-6

Cornish hens 18-20 oz. each

1/2

cup

minced garlic

3

medium

oranges

3

lemons

3

limes

1/4

cup

rosemary

chopped

1/4

cup

kosher salt

coarse ground

1/4

cup

black pepper

coarse ground
Instructions
Make the marinade by adding 3 cups of olive oil to a medium sized mixing bowl.

Zest about ⅓ cup each of the oranges, lemons and limes.

Squeeze the oranges, lemons and limes to get about 1 full cup of juice.

Add the zest, juice, chopped rosemary, minced garlic, salt and pepper to the olive oil and stir well to combine.

Halve the cornish hens by removing the backbone and the keel bone along the breast.

Add the half chickens to a lidded container and pour the marinade over the chicken to cover. Place the chicken in the fridge for 12 hours.

Do not rinse when finished. Sprinkle a thin layer of Smokehouse Chicken rub onto the skin side of the chicken halves.

Setup your smoker for cooking at about 275°F if possible using orange wood, or any citrus/fruit wood or even pecan, oak or hickory if that is all you have.

Smoke cook the cornish hens skin side up for about 1 hour and 15 minutes at 275°F or until they reach 165°F in the thickest part as measured by a meat thermometer.

When the chicken is done, it can be served immediately.
Optional
Baked them in a roasting pan at 350 until they reach 165°F

Cut up a bunch of Yukon gold potatoes, stirred them with some olive oil, salt, and pepper, and let them cook in all the yummy juices and extra marinade in the bottom of the pan.