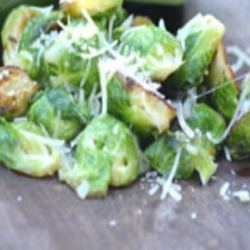 Roasted Garlic & Jalapeno Brussels Sprouts
CLICK HERE or the highlighted products within the recipe to order products suggested for recipe  
Instructions
Preheat oven to 400 degrees F.

Cut off the brown ends of the Brussels sprouts and pull off any yellow outer leaves.

Cut them in half and mix them in a bowl with the Jalapeno Olive Oil and Roasted Garlic EVOO and salt.

Pour them on a sheet pan lined with parchment paper and roast for 35 to 40 minutes, shaking the pan from time to time to brown evenly.

When the sprouts are crisp on the outside and tender on the inside remove from the oven.

sprinkle with the grated Parmesan cheese and roast for another 5 minutes until the Parmesan cheese has browned slightly, serve immediately.
Notes
CLICK HERE or the highlighted products within the recipe to order products suggested for recipe