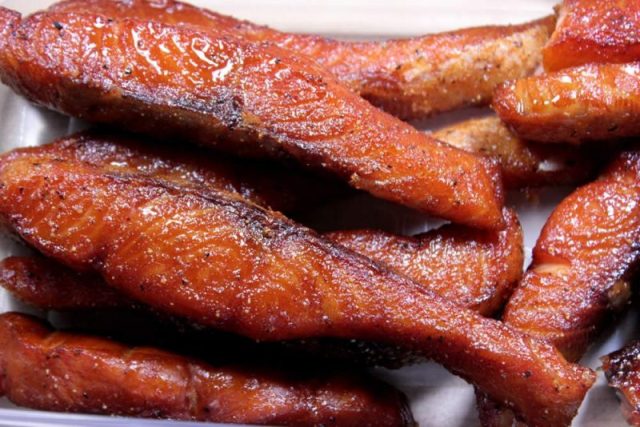 Candied Smoked Salmon
Prep Time: 20 minutes > Brine Time: 12 hours or overnight > Cook Time: 6 hours > Smoker Temp: 120/160°F > Meat Finish Temp: 145°F > Recommended Wood: Apple or Alder
CLICK HERE
or the highlighted products within the recipe to order products suggested for recipe.
Instructions
Slice into Pieces

Rinse salmon with cold water

On a cutting board, slice across the fish into 1 inch wide pieces

Rinse fish under cold water to remove scales
Dry Brine/Marinate the Salmon
Place a layer of rub into a plastic or glass bowl.

Place the fish onto the rub.

Sprinkle a layer of rub onto the top of the fish pieces.

If you need to double-stack the fish, place another layer of rub then more fish.

Finish this layer with a layer of rub on top.

Place a lid on the container and place in the fridge for 8-12 hours or overnight.

Rinse the rub from the fish using cold water and lay on paper towel to drain.
Dry the Salmon
Place the salmon on a Bradley rack or similar with at least ½ inch between pieces.

Place rack in fridge for 3-4 hours to allow the fish to dry and form a pellicle.
Glazing the Salmon
Mix together ¾ cup of maple syrup with 2 TBS of Sweet & Spicy Southern Rub to create a glaze.

Brush the glaze on the salmon pieces every hour while they are in the smoker after the first hour of cooking.
Smoking the Salmon
Setup smoker for cooking at about 120°F

Place salmon pieces directly on smoker grate for 2 hours.

Increase heat to 140°F

Continue to cook salmon for 2 hours

Increase heat to 160°F

Continue to cook salmon until it has reached the desired dryness/texture
Notes
Get the Recipe Here!