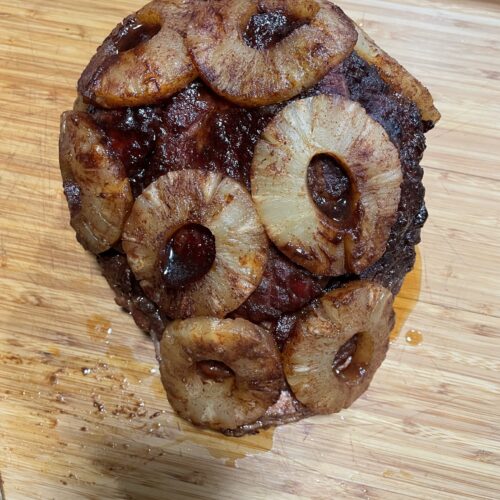 Smoked Sweet Ham
Ingredients
9

lb

Sugar Cured Ham - Thawed

1

Bottle Olive Oil Marketplace Duck Butter or Honey Dijon Mustard

2

c

Brown Sugar

2

TBS

Ground Cinnamon

1

can

Sliced Pineapple

Reserve juice

Aluminum Foil

Cherry or Your Favorite Fruit Wood
Instructions
Bring Your Smoker Up for indirect cooking temp 225 degrees
Rub your Ham:
While the smoker is coming up to temperature, unwrap your thawed Ham and use paper towel to remove excess moisture.

In a bowl combine the Cinnamon and OOM Sweet BBQ Rub to the Brown Sugar - mix thoroughly.

Rub and Coat the outside of your ham with the Duck Butter and lightly dust your ham with Brown

Sugar mixture, creating a paste. (don't go too heavy here, you will come back and add another, heavier coating of brown sugar later).
Smoke Your Ham:
Once your smoker has reached 225 degrees, add a few chunks of wood to your smoker's coals.

Put that ham on the smoker.

After smoking the ham for two (2) hours at 225 degrees, take it off the smoker and wrap in aluminum foil. But before you close the aluminum foil completely, you want to spray (spritz) the ham with your pineapple juice.

Place it back on the smoker and allow it to cook for 1 hour at 225 degrees.

After 1 hour, check the internal temperature of your ham. You are looking for 140-145 degrees.
Glaze Your Ham:
When your ham reaches 140 degrees internal, it's time to glaze.

Unwrap the top of the ham making a "boat" to keep the juices from spilling.

Add Pineapple slices all around ham (use toothpicks if necessary)

Sprinkle brown sugar over the entire outside (coat it well). Once your ham is covered in brown sugar, spray it really well with pineapple juice. This will cause the brown sugar to dissolve and the heat from the smoker will create a beautiful, delicious glaze.

Wrap back up and leave on the smoker for 1 hour while you allow the sugar and juice to create your glaze.
Rest Your Ham:
At the 4 hour mark your ham is ready to come off the smoker. Your ham should be at least 140 degrees internal. If it's a little higher than that, don't worry... as long as you haven't kept it on the smoker for more than 4 hours it shouldn't be overly done.

Remove your ham from the smoker and loosely tent it with the foil while you allow it to rest for around 20 - 30 minutes... then it's ready to eat.