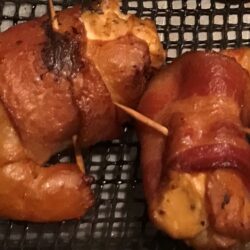 Smoked Shrimp – Stuffed and Bacon Wrapped
These smoked shrimp make a great appetizer or even a main entree depending on your setting. Smoker Temp: 225 F Recommended wood - Apple
Instructions
Butterflying the Shrimp
Using a sharp knife, make a cut along the outside edge of the shrimp without cutting all the way through.
Marinating the Shrimp
Once all of the shrimp are peeled with tails removed, and butterflied, place them into a large zip top bag.

Seal the bag and roll it around to thoroughly coat the shrimp with the rub.

Once the shrimp are coated well, place the bag of shrimp in the fridge for 3 hours. The delicious rub will mix with the delectable juices in the shrimp and create a marinade that will overwhelm your taste-buds!
Precooking the Bacon
I highly recommend pre-cooking the bacon. The shrimp cook so quickly that the bacon doesn't even have time to start getting done in the smoker.

Preheat the oven to 375°F

Place strips of bacon on a baking sheet

Cook bacon for about 6 minutes then remove (no flipping or turning required)*

"Use thin cut bacon. If the bacon is thicker, it will probably require more time to pre-cook.
Stuffing and Wrapping the Shrimp"
After 3 hours the shrimp are done marinating and can be removed from the fridge. Do NOT rinse.

Place about 1/2 teaspoon of the cream cheese mixture into the butterflied part of each shrimp then wrap a half-slice of pre-cooked bacon around it's midriff. Secure with a toothpick and place on the

Non-Stick Grilling Mesh Sheet (purchase here)
Getting the Smoker Ready
Set your smoker up for cooking at about 225°F with your favorite wood.

Once the smoker is maintaining a steady temperature, it is ready for the shrimp.

If your smoker has a water pan, use it.
When Are the Shrimp Finished Cooking?
Most shrimp will turn pinkish when they are done and this is a good indicator but you do not want to overcook shrimp or they will get rubbery. The meat will turn from translucent to somewhat opaque when they are near perfect.

They will also feel firm and plump.

Shrimp will also curl into a distinct "C" shape when they are finished but this is somewhat subjective.

I recommend making sure that your smoker is absolutely maintaining 225°F at grate level using a very reliable thermometer then let them cook for 20-25 minutes. Check them again in 5 minute intervals if they are not quite done yet.
Notes
CLICK HERE or the highlighted products within the recipe to order products suggested for recipe.