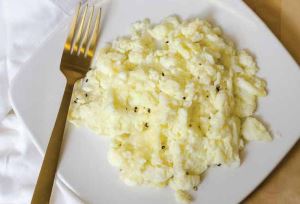 Healthier Scrambled Eggs
Yes, these eggs use olive oil.Fluffy, healthy and tasty - you gotta try them!
Instructions
In a cup or small bowl, whisk the eggs and milk together.

For fluffier eggs whisk vigorously.

Add olive oil to a non stick skillet over low heat.

Make sure the olive oil covers the entire skillet.

Pour in the eggs and gently stir eggs as they cook.

Remove the eggs when they are set, but still moist.

Salt and pepper to taste.