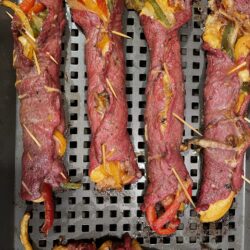 Cheesy Steak Fajita Rolls
Instructions
In a large zip top bag or other container, Add the steak to the marinade and stir well to be sure the marinade in covering all of the slices. Allow the steak to marinate in the refrigerator for at least 2 hours or up to 4.

When ready to cook, start of your grill on medium high. Place all of the vegetables in a grill basket or on a grill mat and grill for 5-6 minutes.

While the vegetables are grilling sprinkle some Get-R-Smoked Fiesta Fajita Seasoning all over them , remove the steak from the marinade and shake off any excess. Lay the steak flat and top each with about 1/3 cup of the shredded cheese.

Remove the vegetables from the grill (leave the grill on) and divide evenly among the steak.

Roll each steak around the cheese and vegetables and secure each roll with a toothpick.

Place each steak roll on the grill, seam side down, and grill for 10 minutes, flipping once.

Remove from the grill and allow the steak rolls to rest for 4-5 minutes before serving.

Can be done in the smoker as well 250 degrees approx. 60 min.
Notes