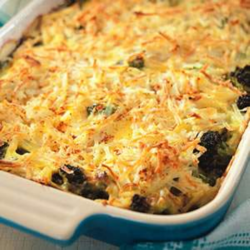 Broccoli, Beef & Potato
CLICK HERE or the highlighted products within the recipe to order products suggested for recipe  
Instructions
Preheat oven to 450°F.

Toss broccoli with 1 tablespoon oil in a large bowl.

Spread out on a baking sheet and roast, stirring once halfway though, until just soft and browned in spots, about 15 minutes.

Meanwhile, heat the remaining 1 tablespoon oil in a large skillet over medium heat.

Add beef and onion and cook, breaking up the beef with a wooden spoon, until the beef is browned and the onion is softened, 10 to 12 minutes.

Stir in Worcestershire, garlic powder and 1/4 teaspoon salt. Set aside.

Whisk milk and cornstarch in a large saucepan. Bring to a boil over medium-high heat, whisking often, until bubbling and thickened enough to coat the back of a spoon, 6 to 8 minutes total.

Remove from the heat and stir in Cheddar, 3/4 teaspoon salt and Balsamic until the cheese is melted.

Spread the beef mixture in a 9-by-13-inch baking dish.

Top with the broccoli and pour the cheese sauce evenly over the top.

Combine potatoes, egg, pepper and the remaining 1/4 teaspoon salt in a medium bowl.

Sprinkle evenly over the casserole.

Bake the casserole until it is bubbling and the potatoes are beginning to brown, about 40 minutes.

Sprinkle with paprika.

Let stand for 10 minutes before serving.
Notes
CLICK HERE or the highlighted products within the recipe to order products suggested for recipe