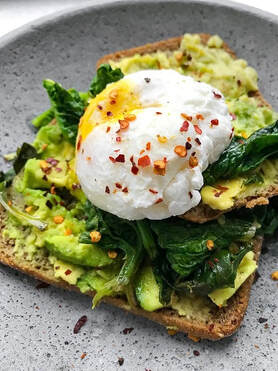 Avocado Toast w/Poached Egg
Instructions
Crack the eggs into individual small dishes and set aside while the water is heating.

Bring a pot of water to boil, turn off the heat and carefully tip the eggs into the water. Cover the pot and poach for 3 to 5 minutes, depending on your preference.

While the eggs are cooking, toast the bread and mash up the avocado, add the olive oil and salt/pepper. Plate the toast and spread the mashed avocado equally on each slice.

When the eggs are cooked, lift them out of the water with a slotted spoon. Top toast with avocado, a handful of greens, poached egg, a pinch of salt, pepper and drizzle a balsamic

Add pepper flakes for a kick .​