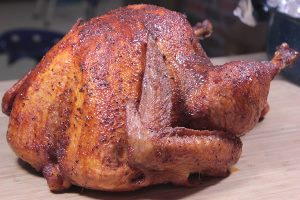 Smoked Maple Barbecue Turkey
Prep Time: 25 minutes Brine Time: 12 hours Cook Time: 6 hours (depends on size of turkey) Smoker Temp: 240°F Meat Finish Temp: 165°F Recommended Wood: Pecan
Ingredients
11-12

lb

turkey

minimally processed with 8% or less solution added

Maple turkey brine

recipe below

Zip top bag

Maple Syrup

Get R Smoked Sweet and Spicy Southern Rub

purchase here

Maple barbecue mop sauce

recipe below

Shallow foil pan

optional
Instructions
Maple Turkey Brine Recipe
Note: you may need to double or triple this recipe depending on the size of your brining container.

1 gallons water

1 cup of kosher salt (coarse)

12 oz of real maple syrup
Season the Turkey
Pour the maple syrup all over the turkey.

Use a silicon brush or your hands to get it all over.

For a little extra flavor, work your hands down under the skin of the turkey and try to get some maple syrup and rub in there.

At this point the turkey is ready to go in the smoker.
Get the Smoker Ready
You can use practically any smoker (even the grill) to cook the Thanksgiving turkey this year as long as you can maintain a range between about 220 and 250°F using indirect heat.

Preheat the smoker/grill and once it is maintaining about 240°F , you are ready to smoke!
Smoke the Turkey
Place the turkey directly on the grate breast side up, or if you want to keep the smoker a little cleaner, you can leave the turkey on the baking sheet.

I suggest pecan wood for this turkey but almost any fruit wood or a mix of pecan and fruit wood such as apple, plum, or cherry, would be great.

Let the turkey smoke for about 2 hours without touching it.

At the 3 hour mark begin mopping the bird with the maple barbecue mop sauce every hour
Maple Barbecue Mop Sauce
6 oz maple syrup

Heat the maple syrup in the microwave then add the rub. Mix well then continuously mix while using.

Use a silicon brush or basting mop to apply the mop sauce to the top, sides, legs and wings of the turkey.
When is the Turkey Done?
Turkey breast which is white meat cooks a little differently than the darker meat found in the legs and wings and it is important to find the happy medium between getting the two meats perfectly done.

I usually go with the breast temperature and as long as both the white breast meat and the legs are at least 165°F .

You can let the breast go to 167°F to give the legs more time to tenderize but since we are going to let the turkey rest for 20-30 minutes, the temperature is going to increase some anyway regardless of whether it's 162 or 167°F.
Rest the Turkey
I recommend allowing the turkey to rest after it is done cooking. During this time, the juices settle back down in the meat and are less prone to spurt out when you cut into it.

The turkey goes from the smoker into the roasting pan and the lid is quickly placed on top to preserve the heat.

Allow it to rest for about 20-30 minutes before removing/carving the meat.
Notes
CLICK HERE or the highlighted products within the recipe to order products suggested for recipe.