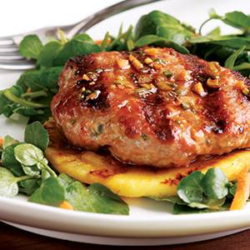 Sesame-Ginger Pork Patty with Grilled Pineapple
Ditch the bun and serve this Asian-inspired pork burger with sweet grilled pineapple on top of a zesty watercress-and-carrot salad. We like the taste and texture of fresh pineapple for this recipe, but canned pineapple rings work well too. Serve with short-grain brown rice.
Instructions
Preheat grill to medium-high (or see Stovetop Variation).

Place pork in a medium bowl. Add half of the sauce mixture to the pork and gently combine without over-mixing. Form into 4 patties, about 3/4 inch thick.

Add the remaining 1 teaspoon Toasted Sesame Oil and 1 Tbs White Honey Ginger Balsamic to the remaining sauce mixture and set aside.

During the last 3 minutes of cooking, add the pineapple rings to the grill and cook, turning once, until dark grill marks appear.

Combine watercress and carrot in a large bowl. Toss with 2 tablespoons of the reserved sauce. Divide the salad among 4 plates. Top each portion with a pineapple ring and a burger.

Drizzle any remaining sauce on top.
Stovetop Variation:
Coat a nonstick pan, preferably cast-iron (or a grill pan), with cooking spray and heat over medium-high heat for 1 to 2 minutes.

Add burgers, reduce heat to medium and cook, turning once, until an instant-read thermometer registers 155°F (for pork and bison) or 165° (for beef or chicken), 4 to 5 minutes per side.
Notes
CLICK HERE or the highlighted products within the recipe to order products suggested for recipe.
Nutrition