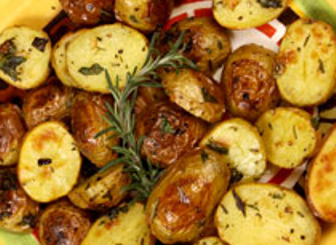 Jalapeno Rosemary Olive Oil Braised Potatoes
Instructions
Preheat the oven to 400 degrees F.

Cut the potatoes in quarters and place in a bowl with the Rosemary Olive Oil, salt, pepper, garlic and Jalapenos or Jalapeno Olive Oil.

Toss until the potatoes are well coated. Dump the potatoes on a baking sheet and spread out into 1 layer skin side down; roast in the oven for 45 minutes to an hour, or until browned and crisp.

Remove the potatoes from the oven, salt generously.