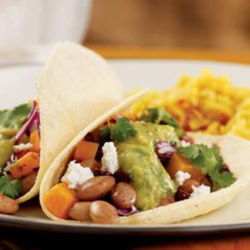 Goosed Butternut Bean Tacos
Tip
Toast cumin seeds in a small skillet over medium heat, stirring occasionally, until very fragrant, 2 to 5 minutes. Let cool. Grind into a powder in a spice mill or blender.
CLICK HERE or the highlighted products within the recipe to order products suggested for recipe  
Ingredients
Goose Poop Mild purchase here or Goose Poop Spicy (purchase here)

4

cups

of diced

1/2-inch peeled butternut squash

3-4

small of dried red chiles

2

cloves

of garlic

unpeeled, smashed and left whole

1

tablespoon

of Olive Oil Marketplace Jalapeno Olive Oil

purchase here

3/4

teaspoon

of dried oregano

divided

1/2

teaspoon

of salt

divided

1/4

teaspoon

of cumin seeds

plus 1/2 teaspoon ground toasted cumin seeds (see Tip), divided

1 16

oz

can cooked pinto beans

1/2

teaspoon

of Get-R-Smoked Mexican/Taco Couisine Seasoning

purchase here

Freshly ground pepper to taste

8 6-

inch

of corn tortillas

1/2

cup

of fresh cilantro leaves

1/2

cup

of finely shredded and chopped red or green cabbage

8

teaspoons

of crumbled feta cheese
Instructions
Preheat oven to 400°F.

Put squash in a medium bowl and, using kitchen shears, finely snip chiles to taste into small pieces (seeds and all) into the bowl.

Add garlic, oil, 1/2 teaspoon oregano, 1/4 teaspoon salt and whole cumin seeds; toss to coat.

Arrange on a baking sheet in a single layer. Bake until soft and beginning to brown, 20 to 25 minutes.

Peel and finely chop the garlic when cool enough to handle; stir into the squash.

Meanwhile, combine beans in a small saucepan with the remaining 1/4 teaspoon oregano and 1/4 teaspoon salt, ground cumin, Mexican seasoning and pepper.

Heat over medium-low heat for about 10 minutes.

Warm tortillas one at a time in a dry large cast-iron (or similar heavy) skillet over medium heat until soft and pliable. Wrap in a clean towel to keep warm as you go.

Spoon 1/4 cup of the warm beans into each tortilla; divide the roasted squash evenly among the tacos and top each with cilantro, cabbage, 1/2 cup of the Goose Poop and cheese.
Notes
CLICK HERE or the highlighted products within the recipe to order products suggested for recipe