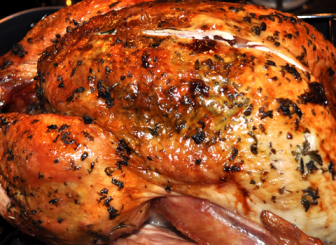 Fresh Herb-Encrusted Cranberry Glazed Roasted Turkey
Instructions
"Note": If you will be stuffing your turkey do it prior to rubbing the paste on the bird.

In a mixing bowl, combine the lemon juice, Fresh Crush Rosemary Oil, salt, pepper, chopped herbs, wine and White Cranberry Pear Balsamic to form a paste.

Rub the inside and outside of the turkey with the paste and roast as normal.

Baste several times during roasting.