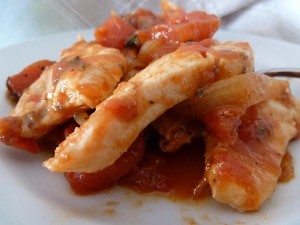 Cilantro Mint Chicken Stew
Instructions
Slice the chicken into thick strips, cutting across the grain. Heat 2 tablespoons of Extra Virgin Olive Oil in a large sauté pan. When the oil is very hot, cook the chicken slices in batches, moving the chicken only after each side turns golden and forms a nice crust. Remove the chicken from the pan.

Meanwhile, peel and halve the onions. Slice the halves to make chunky wedges. When the chicken is done, add the Butter Flavored Olive Oil. As soon as the oil sizzles, stir in the onions. Cook briskly, stirring every few minutes until the onions are wilted and charred in places. While the onions are cooking, place the tomatoes in a bowl and cover with boiling water. Count to 20, then drain, peel and chop the tomatoes coarsely.

Once the onions are soft, stir in the tamarind, bay leaf and tomatoes. Cook the mixture for 10 minutes or until the tomatoes have softened and released most of their liquid. Return the chicken to the pan.

Continue cooking the mixture at a steady simmer for about 20 minutes or until the chicken is tender and the sauce is thick. Add salt and black pepper to taste. Stir in the cilantro, mint and garlic.
"Note": Tamarind paste can be found in most Asian or Indian grocery stores or the Asian aisle of your favorite supermarket. If tamarind paste is unavailable, a squeeze of lime juice may be substituted.