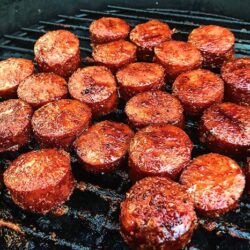 Candy Kielbasa
Instructions
Remove Kielbasa from package and cut into discs.

Liberally cover the discs in the seasoning of your choice.

Preheat your smoker (using apple/cherry wood) OR gas grill OR oven to 350 degrees Fahrenheit.

Once the rub has set on your kielbasa place then on a cooling rack inside your cooker. Cook until the rub no longer can be wiped off your kielbasa. Remove from cooker and let cool for about 2 minutes.

Empty your jar of Terrapin Ridge Farms Smokey Maple Bacon Mustard into a small mixing bowl. Individually dip each piece of kielbasa in the mustard, making sure it is fully covered.

Place back on your cooker until the glaze has set and reached an internal temp of about 165 degrees Fahrenheit.

Place a serving toothpick in your Kielbasa discs, serve, and ENJOY!
Notes