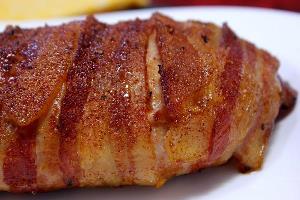 Bacon Wrapped Smoked Turkey Tenderloin
Cook Time: 2 hours 30 minutes Smoker Temp: 240°F Meat Finish Temp: 165°F Recommended Wood: Cherry
CLICK HERE
or the highlighted products within the recipe to order products suggested for recipe.
Instructions
Get the brine made up a day or two early so it can cool down in the fridge before you need to use it.

Place the turkey tenderloins into a plastic or glass bowl, or a zip top bag and pour the brine mixture over them to cover.. Seal or cover the container and place them in the fridge for at least 4 hours but overnight is also fine.

When the brining process is complete, pour off the brine and discard.

Rinse the turkey tenderloins well under cold water to remove any residual salt.

Wrap with Bacon

Use 6 slices of bacon to wrap each tenderloin. If you take the time to stretch the bacon, you may be able to get by with only 4 pieces each, but why, it's bacon?

Start at one end wrapping the bacon around the tenderloin overlapping when you start a new piece. There's no right or wrong way to do this as long as you have full coverage. The bacon tends to stick to itself pretty well so no toothpicks were required to hold it on.
Get the Smoker Ready
Set up your smoker for cooking at about 240°F with indirect heat. Leave the water pan empty for these so the bacon would crisp up better.

I Suggest cherry wood, if you have it available, for smoke.

Let the smoker preheat for 30 minutes or longer to warm up the metal.. this is especially important in cold weather.

Once it's ready, you can proceed with the smoking process.

Place the meat in the smoker and close the door or lid.

Keep the smoke going for at least an hour but longer is recommended.

After about 2 1/2 hours when the temp reaches 165°F removed them from the heat.

Bring them into the house and let them rest with a loose piece of foil laid over them for about 10 minutes before cutting into them.

Using a very sharp knife, slice the smoked turkey tenderloins about ¼ to ½ inch thick trying to keep the bacon in place around each slice as well as you can.

Stand back and watch them disappear like magic!