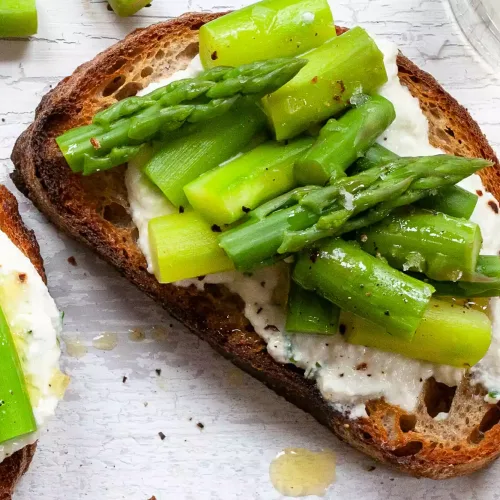 Asparagus and Ricotta Bruschetta
Ingredients
1

pound

thick asparagus

1

cup

ricotta

Zest from 1 lemon

1

tablespoon

lemon juice

1

heaping

tablespoon chopped fresh parsley

1/8

teaspoon

salt

Pinch

freshly ground black pepper

8

1/2-inch thick

slices good crusty bread cut from a sourdough or country loaf

2

tablespoons

Olive Oil Marketplace Walnut Oil - Purchase Here
For garnish:
Flaky sea salt

Freshly ground black pepper

Lemon wedges
Instructions
Peel the asparagus:
Cut off about 1 inch of the bottom end of each asparagus spear. Lay the spears on a flat surface and hold the tip. Use a vegetable peeler to peel off the skin from the bottom half of each asparagus spear to expose the lighter green part of the stems under the peel.
Cook the asparagus:
In a deep skillet, bring 1 inch of salted water to a boil. Add the asparagus, and cook at a rapid simmer for 2 to 3 minutes, or until the stalks are tender when pierced with the tip of a knife. With a slotted spoon, remove to a flat tray and blot dry with a paper towel.

Cut the spears into 1 1/4-inch long pieces.

Mix the ricotta and lemon:

In a small bowl, stir together the ricotta, lemon zest, lemon juice, parsley, salt, and pepper.
Make the toast:
Set an oven shelf close to the broiler, and turn on the broiler. Place the bread slices in a single layer on a baking sheet. Toast for about 1 minute on each side, or until browned and crisp on top, but still slightly chewy in the center.

Stay near the oven and watch carefully to keep the bread from burning. The exact time depends on the distance from the broiler and the heat of your particular broiler.

Remove the toasts from the oven and brush each slice with Walnut Oil.
Assemble the bruschetta:
Spread 1 to 2 tablespoons of ricotta on each slice of bread. Top it with the asparagus. Drizzle with more Walnut Oil, flaky sea salt and pepper. Serve with lemon wedges.