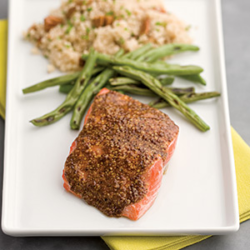 Smoky Mustard-Maple Salmon for Two
Instructions
Preheat oven to 450°F.

Line a small baking sheet or baking pan with foil and coat with cooking spray.

Combine mustard, maple syrup, paprika, pepper and salt in a small bowl.

Place salmon fillets on the prepared baking sheet.

Spread the mustard mixture evenly on the salmon.

Roast until just cooked through, 8 to 12 minutes.