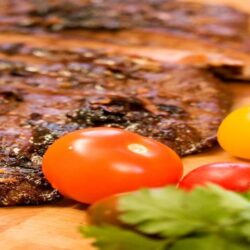 Sassy Flank Steak
CLICK HERE or the highlighted products within the recipe to order products suggested for recipe  
Instructions
For marinade:
Combine garlic, Jalapeno, cumin, cilantro, lime juice, vinegar, sugar and Habanero olive oil.

Add salt and pepper to taste.

Spread flank steak in a large bowl or dish.

Pour marinade over steak until well-coated, cover with plastic wrap and refrigerate for 2-4 hours.
Preheat grill or skillet.
Brush grill or skillet with Habanero olive oil.

Remove steak from and gently shake off excess marinade.

Salt and pepper both sides and place steak on grill or skillet. Cook for 2-3 minutes on each side, until medium-rare to well-done, as desired.

Let meat rest for 5 minutes on a cutting board before thinly slicing diagonally across the grain.

Serve with warm tortillas.

Garnish with avocado and tomatoes, if desired.
Notes
CLICK HERE or the highlighted products within the recipe to order products suggested for recipe