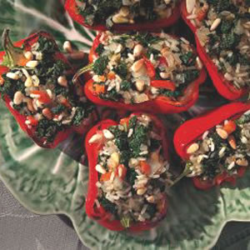 Roasted Red Peppers Stuffed with Kale & Rice
Ingredients
Filling
8

ounces

of kale

6 cups lightly packed, trimmed

1

tablespoon

of Olive Oil Marketplace Koroneki EVOO

1

medium onion

chopped

1/2

cup

of chopped red bell pepper

2

cloves

of garlic

minced

3/4

cup

of cooked short-grain brown rice

see Tip

1/2

cup

of freshly grated Parmesan cheese

1/4

cup

of toasted pine nuts

divided (see Tip)

1

tablespoon

of lemon juice

1/4

teaspoon

of salt

Freshly ground pepper to taste
Instructions
To prepare peppers:
Preheat oven to 400°F.

Halve peppers lengthwise through the stems, leaving them attached. Remove the seeds. Lightly brush the peppers outside and inside with oil; sprinkle the insides with salt and pepper.

Place, cut-side down, in a 9-by-13-inch baking dish. Bake until peppers are just tender, 10 to 15 minutes. Let cool slightly. Turn cut-side up.
To prepare filling:
Bring 2 cups salted water to a boil in a large wide pan.

Stir in kale, cover and cook until tender, 10 to 12 minutes. Drain, rinse under cold water; squeeze dry. Finely chop.

Heat oil in a large nonstick skillet over medium heat.

Add onion and chopped bell pepper; cook, stirring often, until onion is golden, 6 to 8 minutes.

Add garlic and cook, stirring, for 30 seconds.

Stir in the kale. Remove from the heat and let cool slightly.

Stir in rice, Parmesan, 2 tablespoons pine nuts and lemon juice. Season with salt and pepper. Divide the filling among the pepper halves. Sprinkle with the remaining 2 tablespoons pine nuts.

Add 2 tablespoons water to the baking dish.

Cover the peppers with foil and bake until heated through, 15 to 20 minutes. Uncover and bake for 5 minutes more. Serve hot.
Tip
To cook brown rice: Place 1 cup brown rice, 2 1/2 cups water and a pinch of salt, if desired, in a medium saucepan; bring to a simmer. Cover; cook over low heat until rice is tender and most of the liquid has been absorbed, 45 to 50 minutes. Makes 3 cups.

To toast pine nuts: Heat a small dry skillet over medium-low heat. Add pine nuts and cook, stirring constantly, until golden and fragrant, 2 to 3 minutes. (Or spread in a small baking pan and bake at 400°F for about 5 minutes.)
Make Ahead Tip:
Prepare through step 3, cover and refrigerate for up to 2 days.