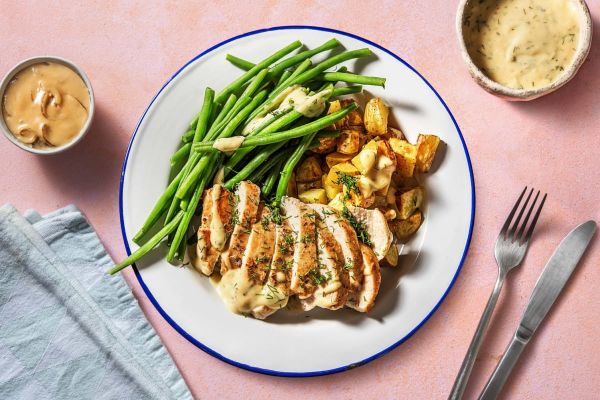 Pan Seared Chicken with Garden Beans, Yukon Potatoes, and Creamy Dill Sauce
Ingredients
2

chicken breasts

6-7

Yukon Gold potatoes

1

C

green beans

2

T

of sour cream

1/2

oz

fresh dill

1

tsp

Dijon mustard

Salt and Pepper
Instructions
Wash and dry all produce.

Preheat oven to 375 degrees.

Finely chop the dill. Dice potatoes into 1/2 in cubes. Trim the green beans.

In a bowl, toss potatoes with Butter Oil (approx. 1-2 T). Add salt and pepper to taste. Then spread potatoes on baking sheet and place in oven for 22-25 minutes.

Using the same bowl, toss green beans with 1/2 of the fresh dill and the Dill Oil (approx. 1-2 T). Add salt and pepper to taste. Spread on separate baking sheet and place in oven with 10 minutes remaining on potato timer.

Heat a drizzle of Extra Virgin Olive Oil in a large pan over medium heat. Season the chicken on all sides with salt and pepper. Add chicken to the pan and cook for 5-6 mins per side, until golden brown and cooked through. Set aside to rest for 5 mins.

In the pan the chicken was cooked in, add sour cream, 1 T Dill Oil, Dijon mustard, and remaining fresh dill. Stir to combine. Season with salt and pepper to taste. Thin with a few tsps. of water as needed.

Remove pan from heat. NOTE: Heating the sauce through does not take long in an already hot pan, be prepared to move through this step quickly! Place chicken breast on plate whole or thinly sliced. Place potatoes and beans on plate. Drizzle the creamy dill sauce over the entire plate or just chicken depending on your taste.