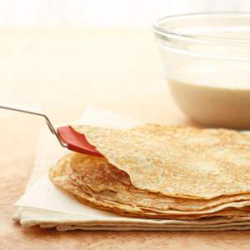 Easy Whole-Grain Crepes
Ingredients
1/2

cup

of whole-wheat flour

preferably white whole-wheat

1/2

cup

of all-purpose flour

1

teaspoon

of sugar

optional

1/4

teaspoon

of salt

3

large eggs

1/2

cup

of low-fat milk

2

teaspoons

of Olive Oil Marketplace Butter EVOO

1/2

cup

of seltzer water
Instructions
Process whole-wheat flour, all-purpose flour, sugar (for sweet crepes), salt, eggs, milk and oil (or butter) in a blender or food processor until smooth, scraping the sides once or twice.

Transfer to a bowl, cover and refrigerate for at least 30 minutes or overnight.

Slowly whisk seltzer into the batter.

Coat a large nonstick skillet with Olive Oil spray; heat over medium-high heat.

Ladle 1/3 cup batter into the center of the pan; immediately tilt and rotate the pan to spread evenly over the bottom.

Cook until the underside is lightly browned, about 30 seconds to 1 minute. Using a heatproof silicon or rubber spatula, lift the edge, then quickly grasp the crepe with your fingers and flip.

Cook until the second side is lightly browned, about 20 seconds. Slide onto a plate.

Repeat with the remaining batter, spraying the pan as needed and stacking crepes as you go. If the pan begins to smoke, reduce the heat to medium.

As you prepare your filling, cover crepes with a clean kitchen towel or keep warm in a 200°F oven.

To assemble, place a crepe on a clean cutting board. Spread a filling of your choice in the center, leaving a 1- to 2-inch border.

Fold in the sides to make a square shape, leaving a "window" in the center.

Press down on the corners, as necessary, to help keep the crepe folded.