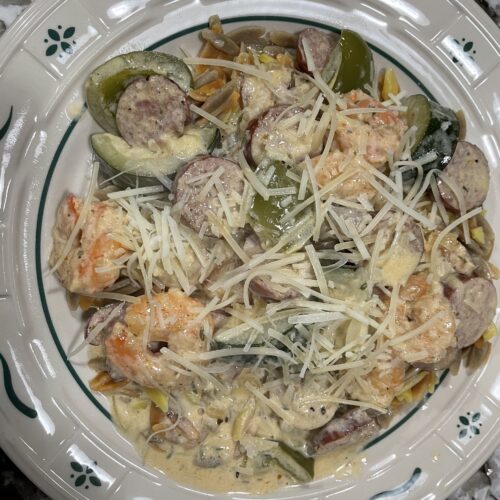 Creamy Cajun Shrimp Pasta with Sausage
Instructions
In a large bowl, combine shrimp, sausage with Olive Oil, Mike's SPG Seasoning, Cajun seasoning and Oregano, and toss until well coated. Set aside.

Prepare stock pot to cook pasta in salted boiling water and cook until al dente.

Heat a large skillet over medium high heat and drizzle bottom of pan with olive oil.

Add shrimp and sausage and cook for 2-5 minutes, until cooked through, stirring regularly. Then remove to a plate and set aside.

Lower heat to medium and add butter and a bit more olive oil to the pan, add the onion, red bell pepper, zucchini, mushrooms, Cajun seasoning, brown sugar, and a generous pinch of salt. Sauté until veggies have softened a bit, scraping up any browned bits that you can. Add the garlic and cook until fragrant, about 30 seconds.

Add crushed tomatoes, chicken broth and heavy cream. Bring to a simmer, stirring and scraping up any brown bits from bottom of pan, simmer a couple minutes.

Once simmering, add Parmesan and stir into sauce. When Parmesan is blended in, add cooked pasta, shrimp and sausage and stir to combine and heat through, 2 - 3 minutes. Salt and pepper to taste.

Sprinkle with chopped parsley.

Enjoy!
Notes
CLICK HERE
 or the highlighted products within the recipe to order products suggested for recipe