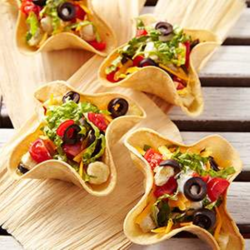 Chicken Taco Bowls
CLICK HERE or the highlighted products within the recipe to order products suggested for recipe  
Instructions
Preheat oven to 375°F.

Wrap tortillas in a barely damp, clean kitchen towel (or paper towel) and microwave on High until steamed, 30 to 45 seconds.

Coat each side of the tortillas with Roasted Chili Olive Oil.

Turn a 12-cup muffin tin upside down. Nestle each tortilla in the space between 4 cups to form a "bowl."

Bake until firm and beginning to brown, about 15 minutes. Transfer to a wire rack to cool.

Meanwhile, toss chicken with garlic powder and salt in a bowl.

Heat oil in a medium skillet over medium-high heat.

Add the chicken and cook, stirring, until it is no longer pink on the outside, about 3 minutes.

Add salsa and cook, stirring frequently, until the salsa is bubbling and the chicken is no longer pink in the middle, about 3 minutes more. Remove from the heat; cover to keep warm.

Fill each tortilla bowl with about 1/4 cup of the chicken mixture. Top with 1 tablespoon each cheese and sour cream, 2 tablespoons each lettuce and tomato and a few olives.
Notes
CLICK HERE or the highlighted products within the recipe to order products suggested for recipe