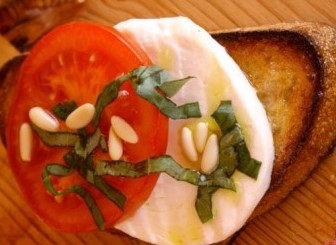 Caprese Bruschetta
Bruschetta [bru'sketta] starts with a baguette cut into three-quarter inch thick slices. The slices are grilled or toasted on both sides, then rubbed liberally with a freshly cut clove of raw garlic. Topping possibilities are nearly endless, so don't be afraid to have fun with it! And as always, remember to finish with a drizzle of good Extra Virgin Olive Oil and/or Balsamic From Olive Oil Marketplace.
Instructions
Slice fresh Mozzarella and tomato on a sliced baguette.

Finish with Fresh basil, pine nuts, a pinch of salt

Drizzle of Olive Oil Marketplace Coratina (Italy) EVOO and Olive Oil Marketplace Traditional Aged Balsamic.