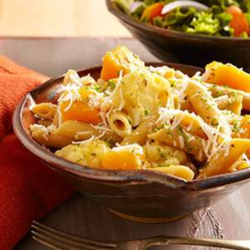 Braised Cauliflower & Squash Penne
CLICK HERE or the highlighted products within the recipe to order products suggested for recipe  
Instructions
Heat oil in a medium saucepan over medium-high heat.

Add garlic, thyme and crushed red pepper and cook, stirring, for 1 minute.

Add broth, penne, cauliflower and squash. Bring to a boil over high heat.

Reduce heat to a lively simmer and cook, uncovered, until the pasta is tender and the liquid is thickened and greatly reduced, 10 to 15 minutes. Remove from heat, stir in pepper and let stand for 5 minutes.

Serve topped with cheese.
Notes
In this braised cauliflower and squash penne pasta recipe, we cook the pasta and vegetables in broth rather than water to make the pasta extra flavorful. The starch from the pasta and vegetables combines with the broth as it simmers and creates a silky sauce. And you can make the whole dish in just one pot, so cleanup is a breeze.
CLICK HERE or the highlighted products within the recipe to order products suggested for recipe