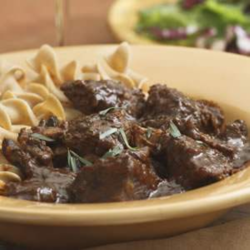 Braised Beef & Mushrooms
CLICK HERE or the highlighted products within the recipe to order products suggested for recipe  
Ingredients
4

pounds

of beef chuck

trimmed and cut into 1 1/2-inch pieces

2

tablespoons

of Olive Oil Marketplace Portobello & Garlic EVOO

purchase here

1

tablespoon

of butter

4

cups

of finely diced onions

2

large cloves of garlic

crushed and peeled

2

tablespoons

of tomato paste

2

tablespoons

of Get-R-Smoked Smoked Paprika

2

teaspoons

of chopped fresh marjoram or 1 teaspoon dried

1 1/2

teaspoon

of Get-R-Smoked Dirty Croc Seasoning

purchase here, divided

Freshly ground pepper to taste

2

pounds

of portobello mushrooms

cut into 1/2-inch pieces

1

cup

of reduced-sodium beef broth

8

large mushroom caps

cut into 1/2-inch pieces

2-3

teaspoons

of finely minced fresh tarragon or dill for garnish
Instructions
Preheat oven to 350°F.

Heat oil and butter in a large heavy casserole or Dutch oven over medium heat.

Add onions and garlic and cook, stirring, until the onions are soft and beginning to brown, 8 to 10 minutes.

Stir in tomato paste, paprika and marjoram.

Season beef with 1 teaspoon Dirty Croc. Add the beef and portobelo mushrooms to the pot; gently stir to combine. Add broth and cover the pot with a tight-fitting lid.

Transfer the pot to the oven and bake until the beef is very tender, 1 3/4 to 2 1/2 hours. Stir in mushrooms caps and continue baking, covered, for 15 minutes more. Remove from the oven, uncover and let stand, undisturbed, for about 15 minutes.

Skim or blot any visible fat from the stew. Transfer the beef and mushrooms to a bowl with a slotted spoon. Return the pot to the stove and bring to a gentle simmer.

Cook until the sauce just coats a spoon. Stir the beef, mushrooms and the remaining 1/2 teaspoon Dirty Croc Seasoning into the sauce and heat through, about 1 minute. Pepper to taste Serve garnished with tarragon (or dill), if desired.
Notes
Traditional braises usually call for the meat to be browned first to seal in the juices, but here that step is skipped so it can absorb the wonderful taste of mushrooms, which completely permeate the sauce. 
CLICK HERE or the highlighted products within the recipe to order products suggested for recipe