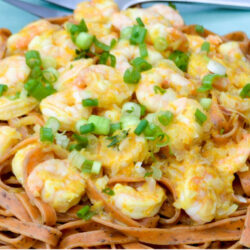 Basil Tangerine Fettuccine with Orange Shrimp
Instructions
In a large bowl, combine 1/2 cup orange juice, zest, thyme, and shrimp. Cover and marinate for 1 hour.

Warm olive oil in a large sauté pan on medium heat.

Add shallots and cook until translucent, about 3 minutes.

Add shrimp with marinade to sauté pan and cook for 1 minute.

Add brown sugar and mix until dissolved.

Add champagne vinegar and stir together.

Add remaining 1/2 cup orange juice and bring mixture to a simmer for 2 minutes.

Remove the shrimp and reduce liquid by half. Remove and discard thyme.

Season sauce with salt & pepper and continue to cook until thickened.

Meanwhile, cook pasta in a large pot of boiling salted water, stirring occasionally, until al dente, about 8-10 minutes. Drain and plate pasta.

Add the shrimp and sauce to pasta and toss to coat.

Garnish with scallions.

Serve and enjoy!
Notes