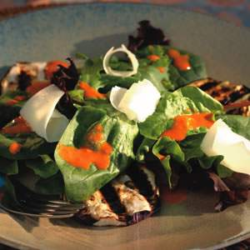 Grilled Smoky Eggplant Salad
Instructions
Preheat grill to medium.

Cut stripes in each eggplant's peel by running a vegetable peeler down the length of it and repeating at about 1-inch intervals.

Slice the eggplants into rounds 1/3 to 1/2 inch thick. Lay them on a baking sheet and sprinkle lightly with 1/2 teaspoon salt. Let stand for about 5 minutes.

Blot the eggplant slices with paper towels and lightly coat both sides with olive oil cooking spray. Grill the eggplant, flipping halfway through, until soft and browned on both sides, 9 to 11 minutes total.

Puree oil, vinegar, tomato, garlic, paprika and the remaining 1/4 teaspoon salt in a blender until well combined.

Toss salad greens with half the vinaigrette in a medium bowl.

Arrange the eggplant slices on 6 salad plates.

Drizzle with the remaining vinaigrette.

Place the salad greens over and between the eggplant slices, then scatter the cheese curls on top of each salad.

Serve warm or at room temperature.