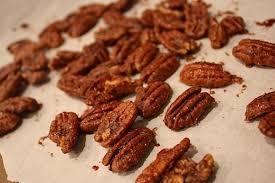 Balsamic Candied Nuts
Instructions
In an 8" non-stick pan, combine the first 5 ingredients. Bring to a low boil over medium heat. Boil for about 2 minutes until the mixture thickens and the sugar dissolves, stirring occasionally.

Add the nuts and continue to cook, stirring continuously until all nuts are coated and the mixture becomes very sticky, about 4 minutes.

Remove from heat and spread the nuts on a parchment lined baking sheet.

Cool completely at room temperature.

Nuts can be stored at room temperature in an airtight container for two weeks.