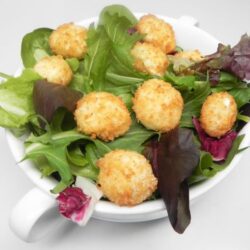 Baked Goat Cheese Arugula Salad
CLICK HERE or the highlighted products within the recipe to order products suggested for recipe  
Instructions
Pull off small pieces of goat cheese and roll into dime-sized balls.

Pour panko bread crumbs into a bowl; roll goat cheese balls in crumbs until coated.

Heat olive oil and garlic in a saucepan over medium-high heat.

Cook and stir goat cheese balls in the hot oil for 15 to 30 seconds.

Scoop them back into the bowl of bread crumbs to create a second coating.

Arrange on a rimmed baking sheet. Set oven rack about 6 inches from the heat source and preheat the oven's broiler.

Broil goat cheese balls, shaking baking sheet every 30 seconds to 1 minute to ensure even browning, about 2 minutes.

Toss arugula with remaining 3 tablespoons olive oil, balsamic vinegar, salt, and pepper in a large bowl.

Divide among 4 serving bowls; top each bowl with warm goat cheese balls.
Notes
CLICK HERE or the highlighted products within the recipe to order products suggested for recipe