Click here to sign up for our E-Drizzle to get first glimpse via email for 12 days worth of super savings.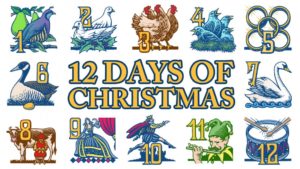 Fine Print:
– 12 Days Starts 12-3-22 and ends 12-19-22 (No sales on Monday's or Sunday)
– Sale starts and ends 12am – 12pm each day for new items added.
– Each day 6am we send an email with that days new deal. (it will eventually hit Facebook but not till later in the day, everything could be gone by then – order early!!)
– All of the items are offered at a great price – no other promotions will apply.
– Order on-line and select pick up (be sure to select location) to reserve your product.
– We are happy to ship your selections, however we can not guarantee Christmas delivery. (we are at the mercy of Fedex)
– In the event a product is ordered and we are out of stock we will call you with ETA or refund your purchase.